COVID-19 Update: Wealth Management
This unprecedented time in history may have caused uncertainty that extends beyond the current health crisis, especially when it comes to your future financial planning and investments. Our financial advisors at Wealth Management by CommunityAmerica are here to help with updates on CARES Act and advice on managing your money in this turbulent economy.
---
The Markets
For some, this may be the most volatile market you've seen. For others, it's reminiscent of past market downturns, the most recent being 2008. No matter your level of experience in times like this, there will be some uncertainty and maybe even fear. But rest assured that markets cycle and, whether driven by economic fundamentals or external events, have always recovered over the long-term based on historical data, as illustrated in the chart below.
Ibbotson SBBI® (Stocks, Bonds, Bills, and Inflation®): 1926 – 2018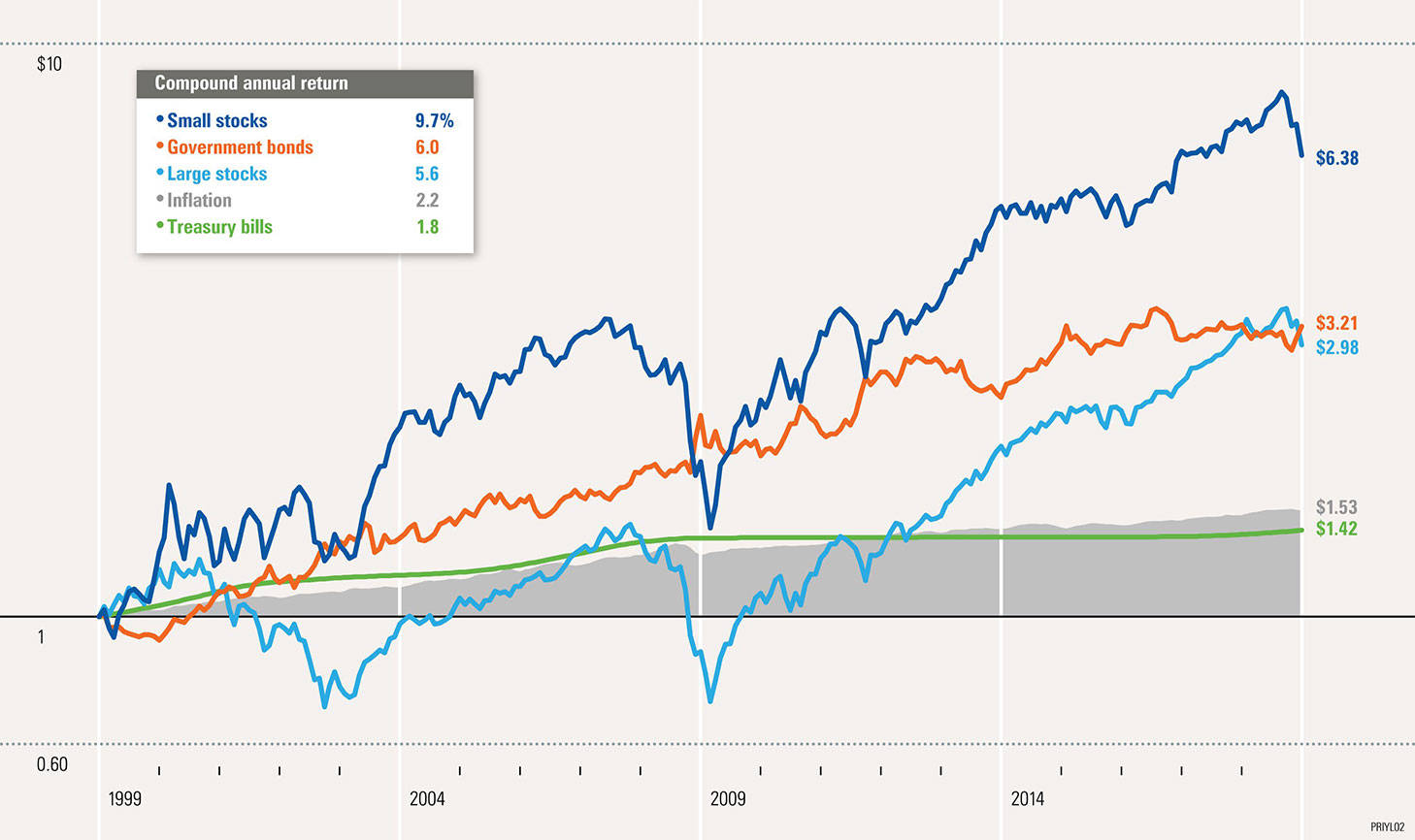 Your Investment Accounts
If you have a 401(k), IRA, or other investment portfolio, you may have noticed some recent fluctuations in your accounts. Markets like this could prompt a change in how you feel about your money or drive a strategic change in planning. But, in most cases, the rise and fall in the value of your accounts is a natural occurrence along the path to reaching your financial goals.
---
CARES Act
In response to the outbreak and related financial impact, the Coronavirus Aid, Relief & Economic Securities Act (CARES Act) was signed into law on Friday, March 27, 2020. Below we'll summarize the individual benefits potentially most relevant to your investments. While we do not offer tax or legal advice, our professionals are available to discuss your specific financial planning needs.
Penalty Free IRA Distributions
Those who are negatively impacted by the coronavirus may be eligible for "tax-favored" distributions from their Individual Retirement Accounts (IRA's) or employer-sponsored retirement plans. These coronavirus related distributions can be withdrawn up to a limit of $100,000 of gross distributions, or the taxpayer's aggregate balance, whichever is less. This exception allows for individuals to withdraw assets with a number of benefits:
Those under age 59 ½ can avoid the typical 10% early withdrawal penalty
No mandatory tax withholding, although taxes are ultimately due on the distribution
The income can be spread out for tax purposes over 3 tax years
Repayment of the withdrawal back in to the retirement account can be made over 3 years versus the current 60 day requirement
Required Minimum Distributions for 2020
If you are an IRA holder who is age 70½ or older in 2020 or are a beneficiary of a deceased IRA holder's account, you are not required to take an RMD for the 2020 tax year. Any distributions that are taken from an IRA in 2020 will not be considered RMD payments.
---
Questions You Might Have
I want to stop my automatic withdrawal for my Required Minimum Distribution (RMD) for 2020, what do I need to do?
If you hold your investment account with CommunityAmerica Financial Solutions, LLC and are currently set up to receive automatic distributions, please contact your Financial Advisor to discuss how we can help you facilitate temporarily stopping your RMD for 2020. Please note that different custodians may offer different options regarding the suspension of your automatic 2020 RMD.
If you have already received your RMD for 2020, you may be able to rollover the funds back into an IRA if you do so within 60 days of the distribution and if you have not completed a rollover within the last 12 months. Please contact you Financial Advisor to discuss what documentation is required to facilitate this rollover. This rollover option may not be available for RMDs already taken in 2020 from an inherited IRA. Please consult with a tax professional to discuss your specific situation.
I don't want to change my RMD, is that okay?
You may choose not to waive your RMD; there is no penalty. You will still owe tax on the amount distributed.
I am out of work; can I make additional withdrawals from my 401k?
The stimulus plan does include provisions for penalty-free withdrawals for those directly impacted by Covid-19. As guidance is issued, it will be available here. We would also recommend you speak to one of our Financial Advisors, if contemplating this.
---
Get in Touch With a Financial Advisor
If you have questions about the economy, financial markets, or your investment accounts, please don't hesitate to reach out to our Wealth Management by CommunityAmerica
financial advisors
. We remain available by phone, email, and can even still chat face-to-face, thanks to technology. Our team is here to look at your unique situation and do whatever we can to help bring you financial peace of mind.
---
Wealth Management by CommunityAmerica. Securities and advisory services offered through CommunityAmerica Financial Solutions, LLC ("CAFS"), Member FINRA/SIPC. CAFS is a wholly-owned subsidiary of CommunityAmerica Credit Union. Wealth Management by CommunityAmerica is a marketing name used by CAFS. CAFS is a SEC registered investment advisor. For important disclosures from CAFS, please visit here. Investment and insurance products, including annuities:
| | | | |
| --- | --- | --- | --- |
| Are Not Deposits | Are Not NCUA or otherwise Federally Insured | Are Not Bank Guaranteed | May Lose Value |
* Government bonds and Treasury bills are guaranteed by the full faith and credit of the United States government as to the timely payment of principal and interest, while stocks are not guaranteed and have been more volatile than the other asset classes. Furthermore, small stocks are more volatile than large stocks and are subject to significant price fluctuations, business risks, and are thinly traded.
About the data: Small stocks in this example are represented by the Ibbotson® Small Company Stock Index. Large stocks are represented by the Ibbotson® Large Company Stock Index. Government bonds are represented by the 20-year U.S. government bond, Treasury bills by the 30-day U.S. Treasury bill, and inflation by the Consumer Price Index. Underlying data is from the Stocks, Bonds, Bills, and Inflation® (SBBI®) Yearbook, by Roger G. Ibbotson and Rex Sinquefield, updated annually. An investment cannot be made directly in an index.