Investing in You
As your truly local credit union, we have a suite of products and services you'll love, like Chiefs Checking with cash back, a High Interest Savings account that helps your money grow and some of the lowest auto loan rates in town. And we offer all of this with service that goes above and beyond to create a member experience that's unmatched.
At CommunityAmerica, we believe in making unbelievable things happen. That's why we strive to provide resources that go beyond banking, from sharing our profits with our members to investing millions into our community, so that everyone in KC can work towards achieving financial peace of mind.
---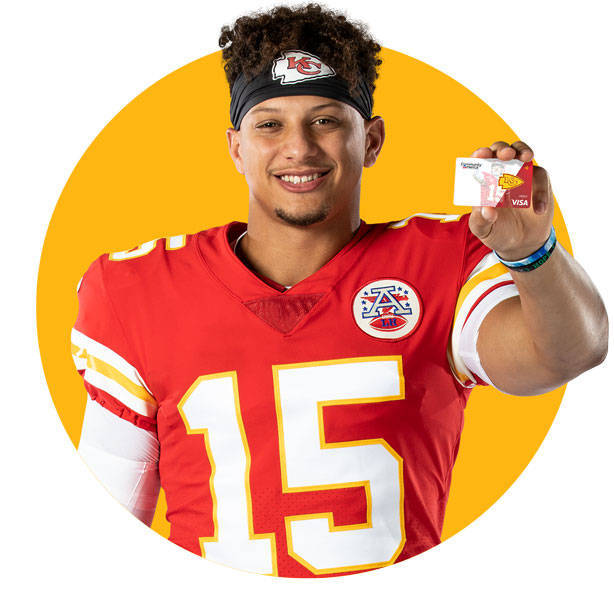 Get $200*
Score the card of Champions
Ever heard of a checking account that makes you proud to be a local? We love our Chiefs so much, we made an account worthy of fandom. When you flash your exclusive Chiefs Visa® Debit Card featuring MVP Patrick Mahomes, you'll earn more than just admiration—you'll also get 1% cash back on the first $500 of monthly purchases, and 15% off Chiefs gear at the Pro Shop.

Learn More About Chiefs Checking
---
Quick Facts
Corporate Headquarters:
Lenexa, Kansas
Locations: 32
Assets: $4.6 billion
Membership: 250,000+
Federally Insured: National Credit Union Administration
Chartered: As a Credit Union in Missouri
Annual Reports: See Our Past Reports
---
How It All Started
The CommunityAmerica story began on March 19, 1940. We were founded by George Duvall, a pilot for TWA, who believed airline employees would appreciate a credit union dedicated to them. He was right, and TWA Club Credit Union, as we were originally known, took off. By the end of the first year, the credit union had more than $20,000 in assets and 644 members.

In 1992, as the Credit Union continued to grow, it changed its name to Members America Credit Union. Six years later, it joined forces with CommunityAmerica Credit Union. Finally, in 2007, CommunityAmerica merged with Midwest United Credit Union to become what we are today: the largest credit union in Kansas and the largest credit union in Missouri.
Experience the Difference
We've made it easy to join. If you live or work in the Kansas City or St. Louis area, you're pretty much in! Open your membership savings account online today.
Get Started